Should You Carry a Weapon Light? – TLR8 Review
Whether or not you decide to run a weapon-mounted light is going to be up to personal preference. With the growing controversy surrounding the topic, I think both sides make a case. The jury is out, but let's take a look into both sides and see if we can reach a verdict.
Visibility Vs. Concealment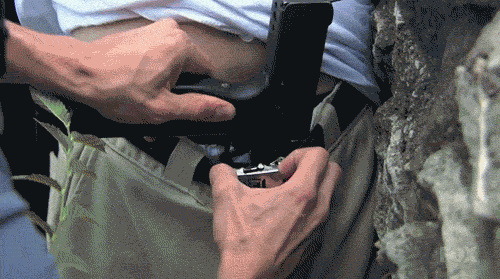 This seems to be the biggest decision factor when it comes to deciding if a weapon mounted light is for you. Having a light on the end of the firearm allows whatever comes into the sight picture to be very visible and in clear focus. However, having that light adds a little extra bulk to your concealed carry package.
Laser or Flashlight?
This is a personal preference thing, but I will leave you with my input. Their is a statistically higher likelihood of being attacked in low light vs day light, so for me, I would rather have the flashlight so I can be 100% sure of whatever I have my sights on. The laser has the advantage of taking out some of the "aiming" because you can put the dot on the target and pull. Both have their place and I think either option is viable. This one is going to depend on your confidence and whichever you deem more useful. For me, I am taking the light.
Light + Laser = Better Together?
Why not have both? Several firearm accessory companies make lights and lasers and a few make dual laser and light combos. One such company is Streamlight. So which light/laser combo should you carry? Streamlight makes a wicked little light called the TLR-8.
The Streamlight TLR-8 is a beast. I have been running this light in my EDC (Everyday Carry) for about a couple months now, and I have to say it has been worth every penny. It provides me with both a light and a laser in one all in a very reasonable form factor.
Running a light on your EDC gun is something I personally like to do to make sure I know exactly what I have my sights set on before I pull the trigger.
Thoughts On The TLR-8
If you are in the market for a weapon light & laser then you are not going to be disappointed with the TLR-8. The specs on this thing are awesome for a light this small and portable.
Specifications:
Lumen Count: 500
Low profile ambidextrous switch
Safe off feature prevents accidental activation
Run Time: 1.50 hours
Beam Distance: 140 meters
Battery Type: CR123A Lithium
Downsides of the TLR-8:
Not rechargeable

Batteries are fairly cheap however

Batteries can be a little difficult to find in stores. Easiest option is to order them in a pack from Amazon.
TLR-8 Battery Link 
Let's look at the TLR-8 Compared to the NEBO Inspector RC we reviewed previously.
As you can see from the side-by-side, the TLR8 is much brighter and travels much further. The tree line is ~ 30 yards from the point where I am standing. (Notice the laser on the tree )
Final Thoughts
In the debate of "Should you carry a weapon light?", there is no one size fits all answer. However, for me, when I am wearing attire that allows me to not print while carrying one, then I am going to do it. If I need to slim down and be more concealed than I would forego the light.
As for the TLR-8, I would recommend it to anyone looking for a weapon light that is super bright, small form factor, and has a laser. What's not to love?