Key-organizers: Useful or Useless?
When it comes to "key organizers" there are a plethora of options on the market, from the Key Bar to the Key Smart, each bringing some advantages and disadvantages over the competition.
One question that came to my mind when I started becoming more self aware of what I was touting around daily was "are key organizers even useful?". Growing up my parents didn't carry around a fancy key organizer, they had a fist full of keys in their pockets, it took them a decade to find the right key and get us in the house, but this was what I was accustom to.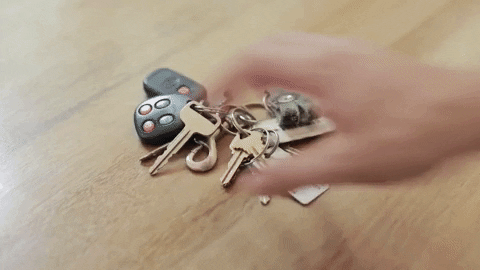 So, this always led me to believe that "key organizers" were not really necessary and they never really came across my radar again until I had trouble lugging around the things I wanted to carry on a day to day basis.
After doing a little bit of market research, I pulled the trigger on purchasing a Key Smart Rugged pocket key organizer. I really wasn't expecting to like the organizer, I figured it would be much to large and not allow me to carry what I needed to. However, after putting it to use over the last several months, I am pleasantly surprised.
Let's go over some features of this Key Smart
Capacity
This key organizer should be able to handle around 12 average keys, if you stuff them in there. I carry quite a few keys, but they did all manage to fit.
Pocket Clip
When I purchased my Key Smart, I chose the model with the pocket clip as well. I personally like the pocket clip, and I think overall, it holds onto my pants pocket quite well.
Bottle Opener Attachment
This is a neat attachment you can put onto your Key Smart if you have the extra room. It's not the greatest bottle opener in the world, but it does get the job done. Overall, I don't see this opener as something that will bend or break, but it tends to rotate some when trying to open a bottle if you don't have a key chain on the opposite end.
My biggest complaint with it is the "key chain" attachment on the opposite end of the opener. This has a tendency to dig into your hip when you are sitting down and leaning forward. If you have your opener on the same side as the pocket clip that is. An alternate would be to flip it to the opposite side of the pocket clip and that should remedy the problem.
Materials
This Key Smart Rugged is made of Aluminum and Steel and has an extremely strong feel to it. It would take a tremendous amount of force to bend this thing.
Words of Caution
I would take some caution in handling the Key Smart when you put it in your door because of the leverages you can put on the key if you don't have it straight. As an example, I put my house key in my door with my Key Smart on it and wasn't paying much attention to how I was turning it and ended up putting to much pressure on the side of the Key Smart and I bent my key.
So, is it worth it?
In my opinion I would say the Key Smart is a solid investment. I was able to compact down pile of keys that were a mess and difficult to manage into a fairly easy "stick" of keys, if you will. If you have any more than 12 keys, you may have to consider the value of them a little more or maybe even carry two Key smarts.