Benchmade Stimulus: Automatic Knife EDC Review
On my never-ending quest to find the coolest and most reliable EDC gear, I delve into the world of automatic knives head first with the Benchmade Stimulus
Coming in at around $190 dollars the Stimulus isn't the cheapest EDC option, but it makes up for it in quality and style. It has a very light anodized aluminum handle which has a nice feel and texture to it. The lightweight handle makes for a nice comfortable pocket carry knife. This knife will definitely make you cooler than everybody else.
As mentioned previously, the Stimulus if very light and fits in the pocket easily. The pocket clip is fairly sturdy and can be easily removed or repositioned based on your personal carry preference.
The Stimulus has been part of my EDC for around four months now. Over the course of that time, it has seen light to moderate use. I have used this knife for every mundane chore you can think of from opening packages to removing staples. My Stimulus hasn't exactly been through a torture test, but as far as practical daily use goes, it has performed beautifully and held a good edge.
Features
Handle made from black anodized aluminum
Lanyard holes for optional lanyard carry
Spear-point blade shape
Push-button automatic action
Easily accessible, textured safety lever on the side of the handle
The action is buttery smooth and super crisp. The textured trigger button sits inside of a notched groove in the handle for easy access. After hundreds of openings, the Stimulus still retains its quick snappy action.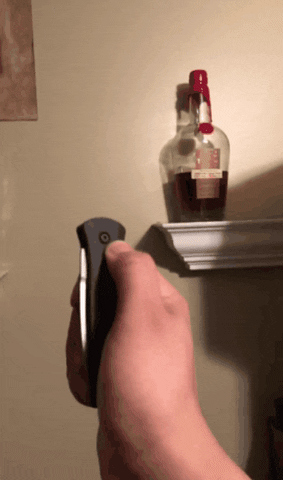 The action is so smooth it not only deploys the blade efficiently, but it makes an excellent and satisfying form of entertainment. I usually find myself sitting at my desk opening and closing this knife dozens of times. Once you feel the action, its like pringles you can't have just one.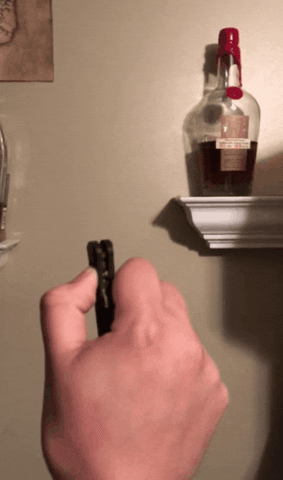 Knife Specification for the Nerds
Action: Automatic-opening
Blade Length: 2.99″
Blade Thickness: 0.088″
Open Length: 7.10″
Closed Length: 4.10″
Blade Steel: 154CM
Handle Thickness: 0.46″
Weight: 2.71oz
Overall Impression
The Benchmade Stimulus was my first venture into the word of expensive knives. The biggest question I had before purchasing this beauty was is it worth the price? I can honestly say that everything about this knife has a quality feel to it. From the smooth action to the finish on the grip and the sharpness of the blade, everything seemed to be built to last.
From a practical standpoint, I'm sure you could get the same functionality and relative quality from a cheaper knife, but you would be missing out on the unique cool factor of this Benchmade product. Overall, if you need a cheap functional carry knife this may not be for you, but if you want to flex on all your friends with a sleek looking, quality piece of gear, then I would definitely recommend the Stimulus
Have any thoughts on the Stimulus? Let me know in the comments below. Interested in a more budget-friendly automatic knife? Check out our review of the Boker Plus Strike